FF4EuroHPC project is widely presented
30 June 2022
Project partners continue presenting the FF4EuroHPC project at different events.
HLRS and scapos team presented the FF4EuroHPC project at the booth at ISC2022, which was held from May 29th to June 2nd in Hamburg, Germany. Teratec team presented the project at the Teratec Forum booth, held from June 14th to 15th in Paris, France.
Additionally, Jean-Luc Bouchot, Engineer at Artelys, presented their experiment Power Systems Maintenance Planning for Energy Transition, explaining their work on the power plant maintenance optimisation planning, which is a very complex stochastic combinatorial optimisation problem. Find out more
Arctur and HLRS actively presented the FF4EuroHPC and EuroCC project on a booth at HiPEAC2022 event, which was held from June 20th to 22nd in Budapest, Hungary. Tina Crnigoj Marc, Arctur, presented the FF4EuroHPC project and its mission within the HiPEAC Industrial Session. See the introductory video here.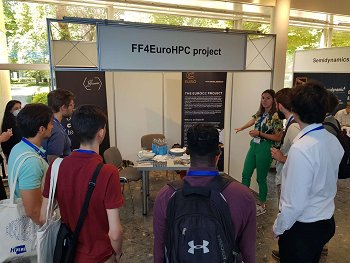 FF4EuroHPC booth at HiPEAC 2022 in Budapest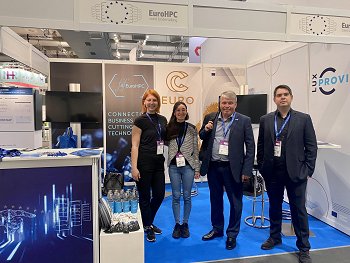 FF4EuroHPC Team at ISC2022 Booth
Jean-Luc Bouchot, Engineer at Artelys, presenting the success story at Teratec Forum Session (left), FF4EuroHPC Team at Teratec Forum (right)