SMEs, join the webinar FF4EuroHPC - connecting business with cutting-edge technologies on 7. December!
30 November 2020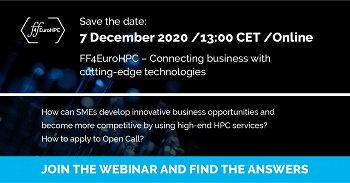 How can SMEs develop business opportunities and become more competitive by using high-end HPC services? How to apply to Open Call?
SMEs, join the Webinar and find the answers! Joining a webinar is free. Register here.
Agenda, 7. December 2020, Online
13:00 Dr.-Ing. Bastian Koller, HLRS - High Performance Computing Center Stuttgart Managing Director: Boosting industrial usage of HPC+ with business experiments and National Competence Centres
13:20 Professor Mark Parsons, EPCC Director, The University of Edinburgh: HPC for SMEs - Getting the benefits of HPC, HPDA and AI
13:50 Will Bateman, CCell Renewables: Zyba Success Story: Cloud-based optimisation of a multi-body wave energy device
14:10 Tomi Ilijas, Arctur CEO: Enabling SMEs to benefit from HPC: How to participate in the FF4EuroHPC Open Call?
About the Webinar
We are in the middle of a digital revolution being driven by data and intelligence, including technologies such as High-Performance Computing (HPC), Internet of Things (IoT), Artificial Intelligence (AI) and Machine Learning (ML). Many SMEs can benefit from using High Performance Computing and Data Analytics techniques in their business but are put off because of worries about the complexity, their lack of skills and the cost. The aim of this webinar is to present to SMEs how they can strongly benefit from the use of advanced HPC services (modelling & simulation, data analytics, machine learning and AI, and possibly combinations thereof) and thereby take advantage of these innovative ICT solutions for business benefits. More detailed information will be given on Open Call - SMEs are invited to participate in the FF4EuroHPC Open Call and gain new business opportunities with a help of HPC. Within the project, EUR 8 Mio fund is offered, approx. EUR 200,000 per experiment. Do not miss this event – save the date!